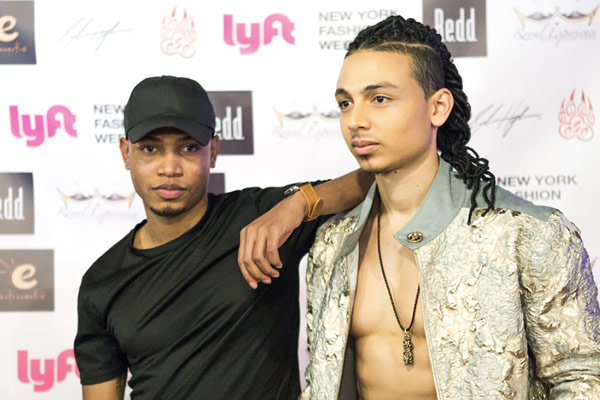 First Friends Blog
Boldly Revolutionizing Men's Fashion with Mayan Grandeur
Sylvian Hyde, Immigrant Fashion Designer
Sitting in the darkened theater in the Varick Street WeWork, the low lights played with the molten texture of Sylvian Hyde's metal hued jacket. He worked his iPad Pro like an appendage, applying the finishing touches on his upcoming collection for the eponymous Sylvian Hyde Menswear brand. Lacking a formal education in fashion, Hyde, age 26, describes his approach to design as "pretty much like a mad scientist."
Listening to Hyde talk about his life so far–his narrow escape from death at the hands of the corrupt Belizean police, his time in US immigration detention to his current role as the Designer and Co-Founder of Sylvian Hyde Menswear­–it appears Hyde has spent his whole life in a non-stop mad scientist mode of fearless experimentation, inspired by the Mayans of his home country.
Only 18 months after being granted asylum in the U.S., Hyde orchestrated a full-fledged fashion show at the Fulton Center WeWork as part of the February 2017 New York Fashion Week.  The Garnette Report, a fashion blog focused on new designers, noted that the Sylvian Hyde collection moves fashion forward, has commercial appeal and is talk-worthy, saying there is "something for everyone here. For the day on the beach or just walking down Prince street."
An Improbable Beginning
Hyde began his career as a fashion designer in an improbable place, in immigration detention at the Bergan County New Jersey Jail. Hyde began sketching menswear using only an eraser-less stub of a pencil. He fashioned an eraser from the rubber of his prison shoes.  Later, Hyde devised a way to infuse color onto his sketches by transferring the ink from newspaper ads with his fingernails. Hyde emerged from detention with 60 sketches and a fierce will to become a designer.
When speaking with Hyde, you have to lean in to hear. He speaks with little vocal variety, in an almost droning quality. But his wide smiling mouth, flashing eyes and compelling chronicle keep me fixated. His quietly magnetic personality has always drawn supportive people into his orbit–the immigration lawyer who lent him money for his beloved iPad Pro; Kate Phillips of SoHarlem, a creative industry incubator, who connected Hyde to the seamstress for his first collection and most enduringly, Jabari Chambers, a Pace University MBA who interned with prominent designers like LaQuan Smith, who became his business partner.
Reinventing Menswear with Mayan Flair
Hyde is determined to reinvent menswear, which he views as a virtual innovation desert, saying, "the skies the limit for women whereas men, they're so constricted and everything is heavily recycled." The aim of Sylvian Hyde Menswear is to "get the average guy to see that it's okay to step out of your comfort zone, to try different things, and it's okay to be fashionable, like go ahead, make a statement."
Hyde coaxes men to flex their fashion muscle by comforting them with traditional tailoring while introducing unexpected features. In describing his newest collection, he says "I designed the lapels so that they shoot up like a wing, highlighting the neck and making you look taller." This original detail was inspired by the "great sense of pageantry and grandeur" of Mayan warriors.
Hyde says, "the Mayan men were definitely the more decadent ones in society at that time. They were adorning themselves with a lot of jewelry that was made from bones, or jade, gold, shark tooth and stuff." Hyde's goal with the upcoming collection is to "create a modern interpretation" of the Mayan culture of his native Belize.
Hyde paints a vivid picture of his process saying, "I imagine how the Mayans would have adopted the European influence, like the tailored suit, keeping in mind the head pieces they wore, the bright colors, how they painted their skin rather than taking a stereotypical approach to incorporating any kind of cultural aesthetic."
Fleeing a Dangerous Paradise
Most Americans think of Belize as a country to go to, not run from. Even the U.S. border control agent who processed Hyde had been to Belize on vacation, telling Hyde "That's a good country…It's so nice." But after hearing Hyde's story, the agent told Hyde that he was a good candidate for political asylum in the United States.
Hyde was raised by his mother, who comes from an extended family of lawyers, supreme court judges and newspaper editors. The Hyde family name was equally prominent, with a chain of Hyde supermarkets dotting the countryside. However, in a true Jekyll and Hyde fashion, his father's family had a darker side that was involved in the drug trade. As Hyde tells it, his father would go "out to the Barrier Reef to meet with Columbians, get back to land and transport the stuff by ground to Guatemala." Ultimately, his father was murdered in his home for a drug deal gone wrong.
It was his father's reputation that triggered the year-long police extortion scheme Hyde experienced. One day, on his way to a Trade Expo for the launch his 3D Virtual Monopoly-like board game, The Tourist, Hyde was stopped by the police and forced to withdraw money at an ATM. After obtaining the ATM video tapes, Hyde reported the officers to the authorities. Thus, began a multi-year saga of police harassment that included vicious beatings at the police station.
Hyde recounts, "because I guess they didn't have their way, I found myself getting detained for any little thing that happened in my city. All hours of the night they would come into the house, wake me up with flashlights and big guns in my face." Ultimately Hyde left Belize for the United States, having been tipped off by a well-connected relative in December 2014 that the police were out to finally kill him.
Perilous Journey to United States
Crossing the Belize border into Mexico, Hyde took a crazy quilt of buses to Matamoros, Mexico, a border city across from Brownsville Texas. He had to continually outwit the human coyotes and cartel members stationed at every bus stop on the lookout for vulnerable migrants.
Using Google maps, Hyde pinpointed the shallowest point of the Rio Grande for his crossing, digging his nails into the steep muddy bank to hoist himself into the U.S. Very shortly after, he was picked up by Border Patrol and thrown in a cage on the back of a pick-up truck. As he recounts, "I felt like a dog being taken to the pound."  He received asylum in August 2016 after being held in detention.
Reflecting on his journey, Hyde says, "It was the hardest thing with every passing mile, knowing that everything you've known for 20 plus years of your life, that it's gone, and you do not know what you're getting into." But his tumultuous past also provides the resilience he needs to thrive in the fashion business. Hyde recounts, "my life has always been very volatile, and I was almost always at the risk of losing something. So now being here, struggle and suffering was not something that was unfamiliar to me."
Fashion Forward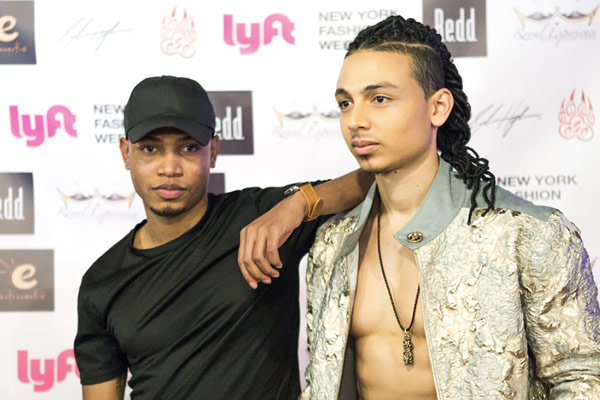 After three fashion shows, Hyde is hard is at work on a new collection.  His tractor beam intensity continues to draw in people and resources. Hyde recounts, "I've met people who have shared their inside knowledge of how the industry works. And so, with this collection you can see a growth where it's definitely more cohesive."
This fourth collection will qualify the Sylvian Hyde Brand to participate in the Vogue Fashion Fund competition, which carries with it a prize of $400,000 and more of the connections and exposure that will enable Sylvian Hyde to change the course of men's fashion.
Wrapping up our conversation, his dark eyes gleaming as he held forth on his beloved Mayans saying, "I have the pride of realizing that I was born in a land where these people once thrived." Seeing the sketches of the upcoming collection and listening to Hyde, the majestic Sylvian Hyde models come to life in my mind's eye, marching down the runway, like modern day soldiers, ready to reclaim Mayan greatness and change the course of modern menswear.