FIRST FRIENDS
DONATE TODAY
We provide compassion and hope through volunteer visitation, post-release assistance and advocacy for detained immigrants and asylum seekers.
OF NEW JERSEY & NEW YORK
BECOME A VISITOR

ADVOCACY FOR
ATTEND AN EVENT
We hope to engage all volunteers and the rest of the public in our advocacy efforts under the name of First Friends. Help us spread the word about immigrant justice and the need to end mass detention.
IMMIGRANTS & ASYLUM SEEKERS
GET INVOLVED
POST-RELEASE
POST-RELEASE SUPPORT
First Friends has grown in both professional staff and volunteers to meet the support and visitation needs of all five detention centers in New Jersey and begin piloting community-based post-release services for those leaving detention.
COMMUNITY BASED ASSISTANCE
VOLUNTEER TO HELP
EVERY DONATION
VOLUNTEER
The work of First Friends is unique — no other immigrants rights organization has the mission to visit the numbers of detainees in as many facilities as we do.
MAKES A DIFFERENCE
MAKE A DONATION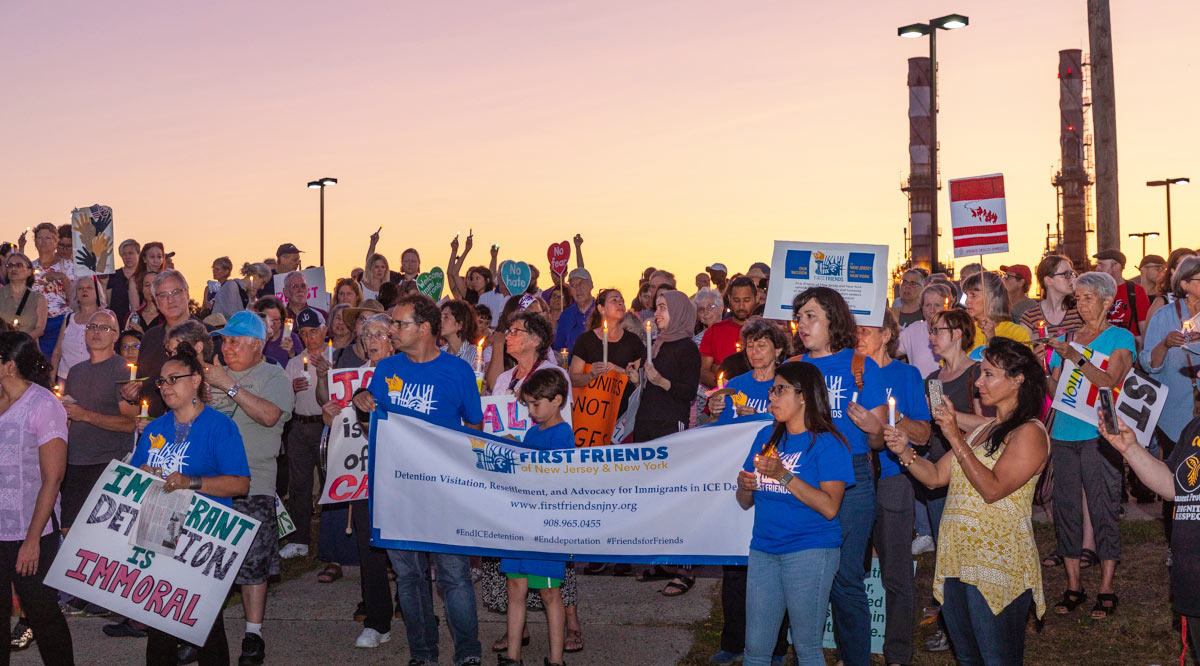 BE A SOURCE OF HOPE
MAKE A DONATION
GET INVOLVED
OUR MISSION
First Friends of New Jersey and New York upholds the inherent dignity and humanity of immigrants who are impacted by the immigration and enforcement system. We provide compassion and hope through connections with volunteers dedicated to helping them rebuild their lives.
OUR VISION
A society where immigrants are welcomed, valued and empowered.

WHO WE SERVE
Immigrants, asylum seekers and their families in New Jersey and New York whose lives have been impacted by the U.S. immigration and enforcement system.
FIRST FRIENDS NEWS & EVENTS
Stay current with our upcoming events, volunteer opportunities, and success stories.
AVERAGE DAILY DETAINEE POPULATION IN 2019
COVID POSITIVE FRIENDS IN DETENTION CENTERS
IMMIGRANT DETAINEES ENROLLED IN FIRST FRIENDS
TOTAL NUMBER OF DETAINED FRIENDS VISITED
WORDS FROM OUR FRIENDS
Hear directly from both detained friends and our compassionate volunteers.
``I was released (from detention) at 9:00 PM on a cold November night with another detainee from Latin America. Neither of us were dressed for the weather. We found ourselves in an industrial area in a city we didn¹t know anything about and without any idea of where we to go. I was able to call First Friends, which sent a volunteer to pick me up. He brought me a warm coat and took me to his home where I stayed for several days. ``

A FRIEND DETAINED

POST-RELEASE SERVICES
``I visited a young man, who was afraid of being persecuted for being gay if he got deported back to Ghana where he had been born. I visited him once a week for a couple of months. We got on well, and we became quite close. The day he was granted asylum he called from the courthouse to share the news. Sharing that moment of relief and victory with him felt great.``

A VOLUNTEER

VISITING A DETAINEE
`` When I arrived at the airport, I immediately asked for asylum and was handcuffed like a criminal and taken to the Elizabeth detention center. From the moment I stepped through the door was the last I would see or go outside for eight months. I worried, because I couldn¹t tell my family where I was. The food was terrible and only had a vague idea of what would happen to me. Some of the detainees who had been there for a long time were acting in disturbing ways. I felt isolated and alone.``

A DETAINED FRIEND FROM AFRICA

QUOTE OF A DETAINED FRIEND ON BEING DETAINED
Subscribe To Receive Updates
Stay informed and get involved by receiving our emails.