Katy Sastre (she/her)
Interim Executive Director
ksastre@firstfriendsnjny.org
908-469-7337
Katy is the Interim Executive Director of First Friends of NJ and NY. Prior to joining the staff, she was on the First Friends' board and co-chair of the advocacy committee. In addition to her work with First Friends, she is also on the steering committee of Latin Action Network and chair of its immigration committee. Katy has over a decade of experience working in non-profits, specifically in the service of immigrants, refugees, and asylum-seekers. She has worked at the New Jersey Alliance for Immigrant Justice, the Northern Manhattan Coalition for Immigrant Rights, the International Rescue Committee, and the International Center for Transitional Justice. Katy is a graduate of Cornell University (BA, Sociology & Government) and SOAS, University of London (MA, Gender Studies).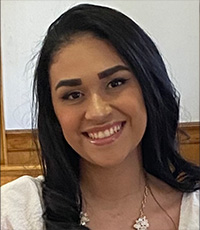 Samantha Wong
Program Associate
swong@firstfriendsnjny.org
973-200-6879
Samantha Wong joined the First Friends of NJ & NY staff in May of 2022. Her role as the Administrative Assistant is to process intakes from detained and released friends as well as new immigrant arrivals who contact us through our dedicated helpline. She also processes commissary requests for detained friends, documents and maintains client records and supports fundraising projects.
Prior to joining First Friends, Samantha worked in our New Jersey school system as a pre-school teacher. She is currently enrolled full time in the Early Education Program at the Global University of Arizona. Samantha hopes to make an impact in her community as well as advocate for immigrant families that are in need.
Gladys Almodovar
Program Associate
galmodovar@firstfriendsnjny.org
973-241-5092
Gladys Almodovar joined First Friends September 2022 as a part-time Program Associate providing administrative support for our volunteer, detainee, release and post- release programs. Prior to joining First Friends, she was an active volunteer, picking up and hosting released friends. Gladys is very passionate about helping immigrants since she is one herself, being born in Colombia and raised in New Jersey.
Subscribe To Receive Updates
Stay informed and get involved by receiving our emails.